Four Life Lessons You Can Learn From Your Cat
Click "Like" to share this post with your friends!
Here at PetFlow, we not only sell pet food, we also love animals. In fact, we're kind of obsessed (need proof? Just check out our office). As pet owners, we think there's a lot to be learned from our four legged friends. Here are four life lessons we've learned from our cats. Enjoy!
Stop And Smell The Roses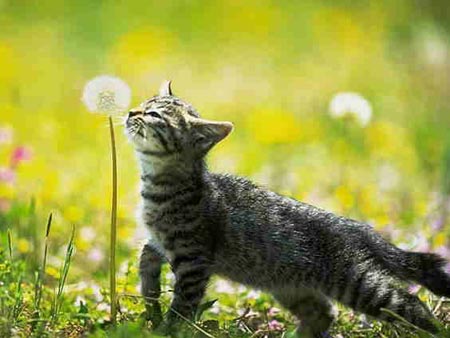 A ray of sunshine. Birds chirping outside of an open window. The heat from a radiator. Let's face it – cats find pleasure in the simplest things! Yes, even chasing the light from a toy laser for hours on-end. Many of us are so wrapped up in our electronics these days,that we forget the simple pleasure of taking in our surroundings and enjoying the little things in life. As Ferris Bueller said, "Life moves pretty fast. If you don't stop and look around once in a while, you may miss it." – and let's face it, nobody can refuse advice from Ferris Bueller or your cat. Especially your cat.
Eat A Healthy Diet, Feel Better!
Anybody who has switched their feline furbaby from high grain pet food to a quality, high-protein food can attest to the fact that eating healthy makes all of the difference in the world. I recently switched my overweight, lethargic cat to Taste of the Wild and immediately noticed a difference in her behavior, her energy level, her weight – and yes, even the amount of food she ate. Seeing such a drastic change in her health made me wonder just how much better I would feel if I switched up my diet!
Perfect The Art Of The Catnap
Whether they're lounging on the sofa, curled up in your lap or stretching out underneath a warm sunbeam on the floor, there is nothing that cats are better at than pure relaxation! There's a reason why the "cat nap" was named after our feline friends. As ourlives become more fast-paced, it's important to remember to take the time to relax your body and mind. No, you don't have to spend 18 hours per day snoozing – instead, take 15 minutes to yourself free of noise, distractions and electronics to unwind. Let's face it – have you ever seen a stressed-out kitty? I think not!
Be Loyal, Yet Retain Your Independence
Cats are wonderful in that they're loyal to the core, yet inherently independent. One of the joys of cat ownership is that there's nothing more they love than to cuddle up with their owners on the sofa or in bed or follow them room-to-room quietly observing, yet they are grateful for the "alone time" when their human steps out the door. There's a reason why so many cat toys are made to be used without human assistance!
These are just a few of the many things our four legged friends can teach us about life, health and love.
What has your cat (or dog!) taught you about life? Share with us in the comments below!
Related Post: Top Ten Cat Behaviors Demystified
Click "Like" to share this post with your friends!