What Pet Parents Need to Know:
Flea and Tick Prevention!
As the weather warms, many pets are itching to get out and play. However, during this time of year, fleas and ticks are lurking about, itching to bug your pets. No one likes the idea of their precious fur baby being leeched on by a nasty flea or tick, so we wanted to share some tips and tricks to prevent and treat these pests this upcoming summer season!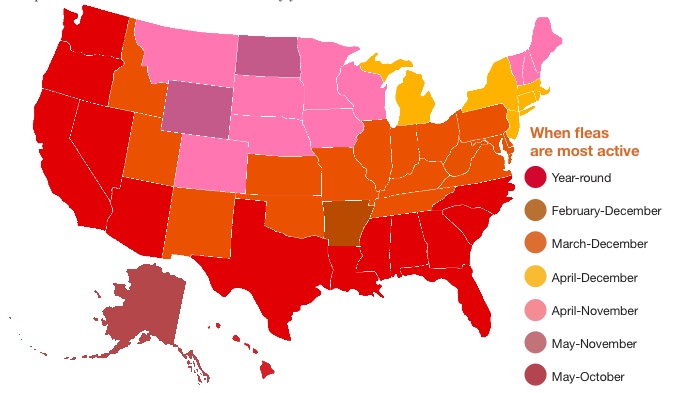 The graphic above shows flea and tick activity by state, so you can check it out and prepare accordingly!
There are a lot of different options out there for flea and tick prevention. We wanted to go over those options so you can be certain that you are choosing what's best for your pet and your personal situation.
Topical Solutions
One of the best things to do when it comes to treating or preventing fleas is to treat your pet with a topical flea solution. Typically, these are applied once a month as a preventative measure and they have a great success rate when it comes to curing an active infestation.
To apply a flea and tick medication, you must make sure that your (most likely reluctant) pet is staying still. From there, you part the fur between their shoulders and squeeze it on. With cats, it is usually better to aim a little higher since they have more of a reach than dogs, and you definitely want to avoid them ingesting the treatment.
Some of our favorite flea and tick topical products: 
These treatments are a great way to go if you live in an area where fleas and ticks are more prominent and you have a pet that likes to get outdoors. Keep your pets safe from critters with these once a month topical regimens!
Flea & Tick Spray
For another type of topical treatment, flea and tick sprays are an excellent option. It absorbs quickly and will attack any existing parasites, along with preventing new ones.
Spray a light coat of spray onto your pet; no need to drench them. Make sure not to miss your pet's legs, tail, and stomach. Avoid the face, eyes, and genital region.
Some of our favorite spray options are;

Flea & Tick Shampoos
Flea and tick shampoos are great to have on hand for your pet. After a long trek outside, you can bathe your pet with one of these shampoos to remove any unwanted critters that tagged along. 
Flea and tick shampoos provide itching relief, but are not recommended for being the only line of treatment on an active infestation. While they do contain insecticides, they are not able to prevent your pet from getting reinfected by any lurking pests. We suggest doing this alongside topical treatments or other more preventative regimens. Scrub your pet down about once a week in a flea and tick shampoo for the maximum effectiveness. Keep in mind that some flea and tick shampoos are species exclusive, so please make sure to not use a dog shampoo on your cats or vice versa!
Flea and tick shampoos:
Suit up With a Flea & Tick Collar
Flea and tick collars are an excellent preventative measure for your furry friend. They are mess free and can be worn for long-term protection. They can be worn at all times and act as a repellent for ticks and fleas.
Some of our favorite flea collars:
Last but not least- The Environment
Now imagine: You are a pet parent who has worked tirelessly to rid their pets of fleas and ticks. The last thing you want is for your fur baby to get reinfected by the environment they live in. Luckily, there are treatments for your environment that you can use to make sure that they're fully eradicated.
One option you can try is a household fogger. Typically, you set these up and stay out of the building with your pets for a couple of hours. When you return, open the windows in order to ventilate the air. Not only do these help with fleas and ticks, they also should kill roaches and other pests you don't want in your home.
Check out our favorite fogger:
Another way of keeping fleas and ticks under control in your environment is to attack them with a flea and tick spray. These are good for spot treating places that your pet frequents.

Environmental treatments: 
A clean, treated environment along with the other suggestions listed will be the best way to make sure your pet stays clear of unwanted pests this upcoming season. We want to help keep your furry friend happy, healthy, and critter-free.
Right now on our site to celebrate Bayer's name change to Elanco, you can take 20% off of all Elanco products with the promo code ELANCO20.
For any questions about fleas, ticks, or the products we carry, feel free to reach out to our customer service team of dedicated pet parents. You can reach us at 1-888-316-7297, seven days a week, 9am-10pm EST.