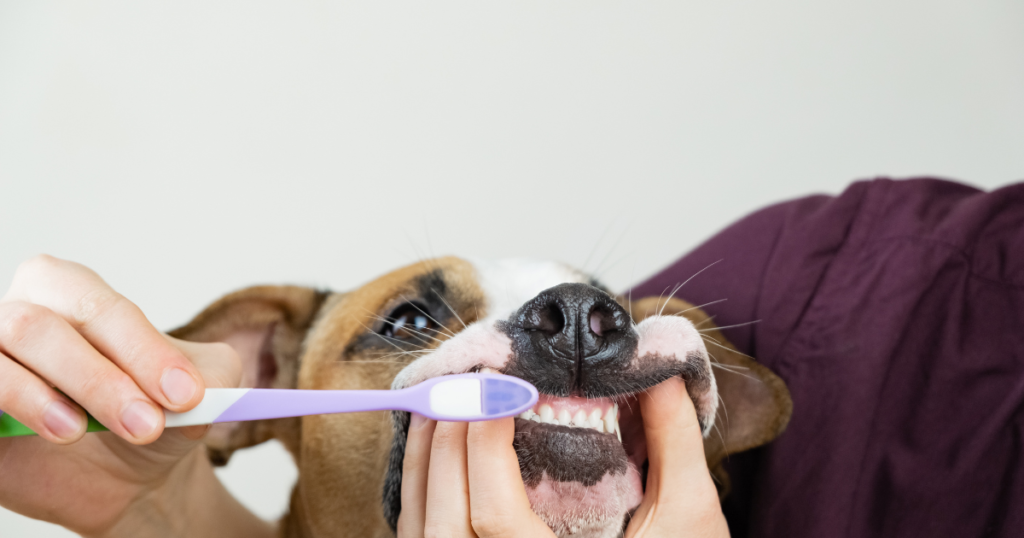 The Importance of Dental Care
February means that it's officially National Pet Dental Health Month. This month was created by the American National Veterinary Association to bring awareness to your pet's teeth and what you can do to improve their oral health. Many pet owners aren't aware that dental health is an essential part of a dog's overall health and one of the most common issues that can plague your pet, or just how bad dental problems can get when left unchecked. The good news is that dental problems are easily preventable, and if you take diligent care of your pet's teeth, you should not have to worry about it! We're going to take some time to go over what you can do to improve your pet's dental health.
Why does dental care matter?
Pets are not able to brush and clean their own teeth, and for that reason it falls on their owners to look after their dental health. Dental disease in pets is caused by a buildup of plaque and tartar on their teeth and gums. This can lead to many painful conditions such as tooth decay, gum disease, and infections that can spread to the rest of their bodies.
Signs of dental problems
If any of these symptoms arise in a dog occur, it may be a sign that something is amiss in a pet's oral care.
· Bad breath— A sign of tartar buildup on a pet's teeth.
· Discolored teeth— Another sign of tartar buildup.
· Swollen and inflamed gums— This can be a symptom of gingivitis or infected gums.
· Loss of appetite— A pet with tooth pain may become less interested in eating.
· Irritability— Due to oral pain, pets may become irritable or experience other changes in behavior.
If you are concerned about your pet's oral health and notice any of these signs, you can schedule an appointment with your veterinarian for a checkup to make sure everything is up to par with your pet's teeth.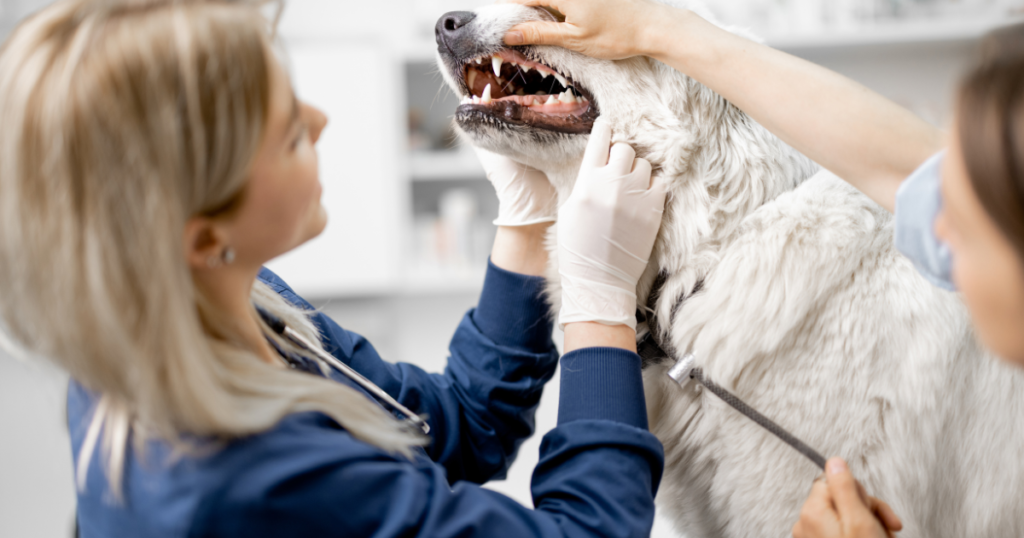 How to Prevent Dental Problems
Regular dental checkups at the vet are the most crucial step to making sure your dog or cat's teeth are in order, along with cleanings. You can talk to your vet if you are concerned about your pet's oral health. Your vet may suggest a teeth cleaning or other procedures for your pet. Along with that, dental treats are a fantastic way to help keep a pet's teeth strong and breath fresh at home. There are also dental foods that you can try for your pet, both prescription and nonprescription! Last but certainly not least, it is important to keep up on regular tooth brushings for your pet at home.
We wanted to take some time to highlight our favorite products for taking care of your pet's dental health at home.
Dental treats · GREENIES: GREENIES are known as the leader of pet oral care for a reason and are the #1 vet-recommended dental treats. · ArkNaturals: ArkNaturals are a brushless toothpaste with all-natural, clinically proven ingredients to help clean your pet's teeth. · Whimzees: Whimzees are a grain and gluten free dental treat that encourages your pet to chew. The protrusions on the treat help clean their teeth as they chomp away at it. Whimzees – Buy Two or More And Get 30% OFF with code: WHIMZEES30
· Vetdiet Dental Biscuits: Vetdiet Dental Biscuits contain eucalyptus, parsley, and spearmint to help freshen your pet's breath, along with sodium hexametaphosphate, which is clinically proven to help reduce plaque and tartar. Vetdiet – Buy One Get One Free on Vetdiet Dental Biscuits with code: BOGOBISCUITS
Dental toys
· Playology: Playology dog toys are a great option for pet parents that may want to stay away from treats to keep their pet's weight down. Playology toys are made with a unique blend of rubber and have all-natural scents to attract your dog's attention. Check out the Playology Peanut Butter Scented Dental Chew Ball!
· Nylabone: Nylabone makes various dental toys that your pet can chew on while helping their oral hygiene. An example of this is the DuraChew Dental Chew Dino Toy. This toy has raised nubs that help get plaque off of your dog's teeth.
Dental diets
· Vetdiet: Vetdiet makes a dental formula for your cat with trustworthy ingredients to help their teeth stay healthy and strong. The kibble is also shaped in a way that encourages your pet to chew. Check it out today!
· Hill's Science Diet Oral Care: Hill's Science Diet is recommended by vets across the board when it comes to all aspects of your pet's health. Their oral care formula is a great option for a pet parent looking to take care of their pet's teeth at home. This food contains interlocking fiber technology that helps clean canine teeth and freshen your pet's breath.
· Hill's Prescription Diet T/D: If you are looking for a prescription option, ask your vet about Hill's T/D. Hill's T/D is clinically proven to reduce tartar, plaque, and stains on your pets teeth.
With all of this in mind, you are now ready for Dental Awareness Month! Always remember to reach out to your vet before making drastic changes in your pet's diet or if you are concerned about your pet's dental health. For any questions about dental products or recommendations, please feel free to reach out to our dedicated team of pet parents at 1-888-316-7297. The PetFlow team is always here and happy to help!