It's National Walk Your Dog Week! Here's a great list of products to help and your favorite furry friend enjoy a walk as much as possible.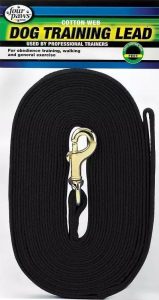 This leash is great for teaching your to come or play fetch. The leash provides your dog with the feeling of being off leash while still remaining safe. plus, the swivel snap makes sure the leash won't get twisted during training.
The ThunderShirt leash is a two-in-one bonus product! Not only do you get a great leash, but you also get a harness that you can choose to use. You don't have to worry about packing a harness or trying to wrestle your dog into a confusing bunch of loops. ThunderShirt Leash allows you to easily turn your collar into a harness whenever you feel like your dog might start to pull.
Is your dog more of a classic kind of dog? This nylon dog leash has the classic look that will last throughout the years. It also has the durability to last just as long. This leash is classic for a reason. The durable nylon resists fraying, the swivel snap allows your dog to change direction without the leash twisting, and the color is as classic as it gets. (This leash also comes in multiple, not so classic, colors.)
Do you have a smaller dog who is constantly on the run? This dog harness lets you have complete control over your excited pup without having to choke your pup. The harness is made out of lightweight mesh which allows for a breathable fit. This harness is so comfortable, your dog won't even remember it's on!
This dog harness is perfect for larger dogs. It has an innovative design where the leash attaches to the front of the harness rather than the back. This design allows you to have even more control over your adventurous pup.
Keep your dog safe when you're away with this Break Away Collar. The collar stays together when taking your dog for a walk, but will slip off if something gets caught in the collar. This collar prevents several accidents if your dog goes to doggy daycare, dog parks, or walks through the woods.
Do you have other favorite products? Let us know in the comments!